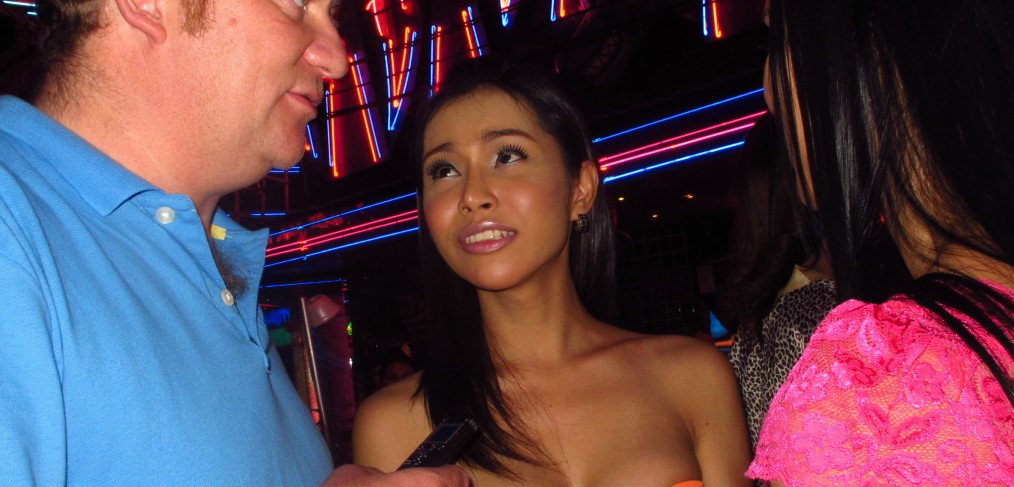 Bangkok Ladyboys go gaga for Lady Gaga
Words by Mark Bibby Jackson, Photo by Jonny Edbrooke
When multi-award winning singer Lady Gaga came to Bangkok on her 'Born This Way Ball' tour, her first port of call was not one of the capital's many shopping malls but a small cabaret where she saw a performance by a troupe of ladyboys.
Taking up her VIP front row seat at Calypso Cabaret, now coloured white in contrast to the other red chairs to mark the occasion, the New York artist enjoyed the hour-long show before meeting all the performers backstage.
One of the performers particularly took the Lady's eye.
"She said I was very beautiful," says Farhard, who has been performing at Calypso for two years. "I said thank you."
The dancer who performs twice a night on the small stage in front of a hundred or so customers as opposed to the thousands who flock to Lady Gaga's concerts was overawed by the experience.
"I was very excited," she says. "I never expected to have anyone like Lady Gaga come to see me perform. Everyone knows her.
Currently there are no Lady Gaga tracks on Calypso's lip-synching playlist, although Farhard would like to perform some in the future. The artist loved by millions around the world gave away tickets to her concert at the Ragamangala National Stadium on May 25, but none of Calypso's ladyboys were able to go as they perform each night.
Outside Calypso, Gaga frenzy has gripped the capital's ladyboy community.
"She is different to other singers, she dresses different," says  JJ, 33, who manages Cockatoo, the only ladyboy bar on Bangkok's infamous Soi Cowboy strip.
The lyrics of tracks like 'Born This Way', which refers to "transgendered life", have a resonance with her. "It is the same like my life. I feel the way that she sings. She is the same as us, we are all born to survive."
Although born a man, JJ knew that inside she was a woman from the age of 6 or 7. She is not the only ladyboy to feel this way.
"Most of the people who go and see her are gay or ladyboys. She is the idol for ladyboys."
Like Farhard she was unable to see the concert as she only has two nights off each month. But it is not just the lyrics that she enjoys.
"I like dancing to her songs," she says. "I love the beat. We have three or four songs of hers that the girls really can dance to. The customers really like it too."
Although like Farhard and JJ, Ben was unable to go to the concert as she dances each night at Cockatoo, she too bursts with pride that Lady Gaga performed in the Thai capital.
"I am so happy that Lady Gaga chose to present her concert here because she is very famous," says the 22-year-old go-go dancer. "I love her songs but I can't sing them as I do not speak much English."
Her lack of English – JJ acts as translator – does not prevent Ben from being one of Cockatoos "top three" girls. Dressed in a skimpy orange bikini that emphasises the breast implants she had two years ago, it is easy to see why.
"I am very happy with the way I look," says Ben, who knew that inside she was a woman aged 13. "Thailand has the best hospitals for cosmetic surgery here." According to JJ she is bought out from the bar most night by customers. Clearly language is no barrier in the world of ladyboy love.
One thing that all three agree is that Lady Gaga's visit to the capital has been a good thing.
"It is amazing that she has come to Thailand because 70 to 80 percent of the Thai people love her songs," says Ben. Who knows maybe Lady Gaga will take in a show at Cockatoo next time she's in town.