To Cook A Spider Wins International Food Writing Award
Phnom Penh – January 12, 2017
Mark Bibby Jackson's debut novel To Cook A Spider has received international recognition at the prestigious 2016 Gourmand Word Cookbook Awards. The competition's jury announced that To Cook A Spider was the national winner for Cambodia in the categories of Best Self-Published Book and Best Asian Cuisine Book, on January 10.
The first in Bibby Jackson's Cambodian trilogy, To Cook A Spider highlights contemporary Cambodian cooking as it follows protagonist Inspector Sorn Satya into a murky underworld of murder, blackmail and betrayal.
"Great title, by a talented writer with deep Cambodia experience," said Edouard Cointreau, President of the Jury, Gourmand World Cookbook Awards, on announcing the national winners. "It is a great book, a pleasure to read, and a help for those interested in Cambodia and all Southeast Asia cuisines."
 Nominated in 2016, Bibby Jackson's novel will go on to compete against winners from other countries for the Best in the World titles in the relevant categories. The results will be announced on May 27 and 28 at the annual Gourmand Awards Ceremony, in Yantai, China.
"This is a great privilege, not only for myself but also for Cambodia to achieve such recognition," said Bibby Jackson. "I hope that this brings greater recognition to the fledgling fiction writing scene emerging in the Kingdom."
Released in November last year, Bibby Jackson's second novel, Peppered Justice, continues the culinary theme, with Inspector Satya once more pitting hits wits against a daunting adversary.
"I'm trying to create a kind of culinary crime noir," says the author, who is currently working on the third in the series.
The Gourmand World Cookbook Awards represent the second honour bestowed upon Bibby Jackson in the past year, having scooped an award at the inaugural Essex Book Festival Crime Writing Short Story Competition in August for his short story A Slow Death.
Founded in 1995 by Edouard Cointreau, the Gourmand World Cookbook Awards honour the best food and wine books, printed or digital, as well as food television each year. Books from 205 countries participate in the awards, the only international competition in the sector. There is also a focus on self-published books, which Cointreau sees as the fastest growing sector in publishing.
Inspired by the spirit of the Olympic Games, the Gourmand Awards have been compared to the Oscars for the food and beverage writing field. Cointreau's aims in creating the awards were to reward and honour those who "cook with words", to enable readers, publishers and retailers to get the best from the food and beverage publishing sector and to raise awareness of the world's diverse food and wine culture, promoting international understanding.
Both Bibby Jackson's novels as well as his novella Always are available as e-books at Amazon or can be purchased in Cambodia at Monument Books.
Buy a kindle version of To Cook A Spider from Amazon.
++++
Peppered Justice Released November 2016
"Major Sorn Satya looked at the little that remained of the girl's face. Not for the first time that morning he resisted the urge to regurgitate his breakfast. This time he was
successful."
When Inspector Satya is unexpectedly instructed by the Kampot Chief of Police to work on what looks like a routine missing persons case little does he realise he will become ensnared in a web of murder, underage sex and pepper smuggling that is set to shake the peaceful town of Kampot to its core.
The second of Bibby Jackson's Cambodian trilogy, Peppered Justice picks up where To Cook A Spider left off, with disgraced Cambodian detective Inspector Satya transferred to Kampot after his handling of the Defaux murder case. However, despite this set back the inspector is determined to fight for justice rather than kowtow to authority.
"Peppered with humour, Bibby Jackson's second novel is as much of a page-turner as it is a psychological insight into what makes humans tick, making it a riveting read from start to finish."   Marissa Carruthers, AsiaLIFE Cambodia.
Mark Bibby Jackson is the award-winning author of the novel To Cook A Spider and the short stories Always and A Slow Death.
The second in the Cambodian Trilogy, Peppered Justice, was released at the Kampot's Writers and readers Festival in early November 2016.
Follow on Facebook. Peppered Justice.
E-book versions of Peppered Justice are now available through Amazon.
++++
A Slow Death Wins Essex Crime Award
Award winner at the inaugural Essex Book Festival Crime Writing Short Story Competition.
++++
First of Cambodian Trilogy Released
"The man at the far end of the bar had a sad story to tell only he didn't know it."

When Don Oake accepts an invitation from an old schoolmate to stay with his family in Cambodia, little does he suspect the series of events he has unwittingly set in motion. Enchanted by the wife of his best friend, he discovers a previously unsuspected passion for the culinary art. It is a series of events that only the inscrutable Inspector Satya can solve.
A tale of love, murder and betrayal, Mark Bibby Jackson's debut novel takes the reader from provincial Battambang to the seedy underbelly of Phnom Penh and Bangkok. Along the way he reveals the importance of learning how to cook a spider.
Published 30 September 2015.
Follow on facebook. To Cook A Spider.
Read the Khmer Times review of To Cook A Spider.
Read review of To Cook A Spider by Kevin Cummings
View Photos of Launch Party at To Cook A Spider's official Facebook Page.
Buy a kindle version of To Cook A Spider from Amazon.
++++
Bibby Jackson's Debut Novella, Always
What would you do if you had unlimited wealth and how would you deal with the knowledge that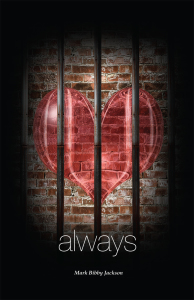 this fortune is founded on murder? These are the questions raised in Mark Bibby Jackson's novella Always.
A man lives out the last week of his life in a cell. Knowing his inevitable fate, he is left to reflect on his life's work. The only problem is that he is losing his memory.
A haunting story of love, false memories and man's obsession to discover the truth, the reader is left questioning what it means to live your life like a man.