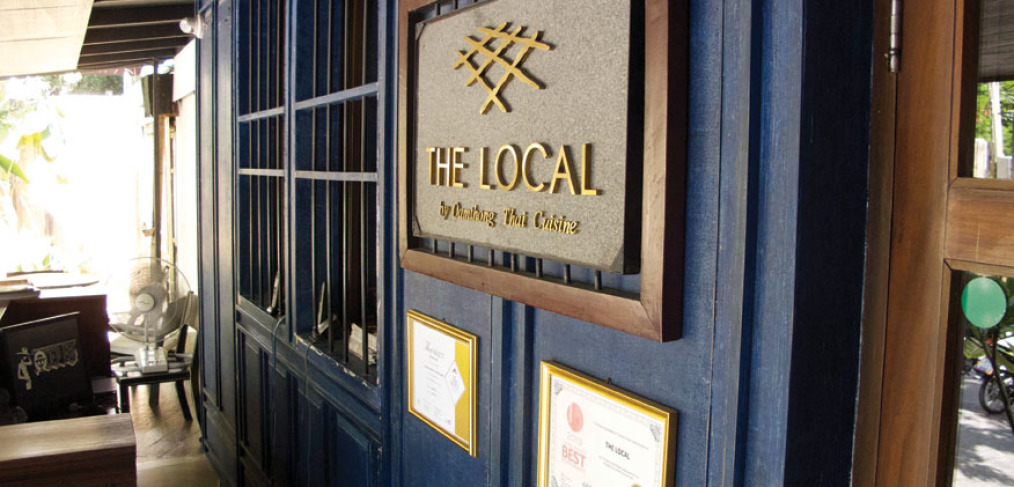 The Local
Mark Bibby Jackson pops down to The Local to see whether it delivers on its promise to bring local Thai food to the heart of Bangkok. Photos by Nick McGrath.
In today's increasingly globalised world, it comes as a breath of fresh air to find a restaurateur who strives to keep things local. Ploypan Markawat is such a woman. Though her card states that she is the executive director of The Local restaurant, in reality she is a dutiful daughter to her mother, Luckananaj, who established the family's first Thai eatery some 30 years ago.
The younger Markawat frowns upon the modern trend towards fusion. You are as likely to see salmon on The Local's menu as to see a fish riding a bicycle.
"Authentic Thai food is very special and is hard to find nowadays," she explains over a refreshing Thai iced tea, featuring kaffir lime leaves muddled with sun-dried lemongrass. "We want people to know the beauty of Thai food."
Like all ingredients on the menu, the kaffir lime is sourced locally. Betel leaves, for instance, are grown in the small garden at the front of the restaurant or at the Convent Road branch where cookery classes are held. The som pan, or orange leaf, used in The Local's signature dish of yellow curry with fish is provided by specialist suppliers in Southern Thailand as it can not been found in Bangkok.
But it is not just the food that has a local feel. Opened some two years ago as a supplement to the original restaurant, Local by Oamthong, the eatery is set in a bright blue, 70-year-old wooden house. Several rooms allow private dining in a unique setting. Paddles stand against the wall in the 'Boat Room', while a second space is a tribute to King Rama V that features a picture of the monarch frying fish on its wall. The venue is also a treasure trove for memorabilia of a lost Thailand, including a small cabinet full of original recipe books.
"We use old Thai decorations from my grandparents," says Markawat. "When customers enter they can hear the old songs. We also serve long lost recipes as well."
One example of this is tom yew (literally translated as tiny soup) based on a recipe served to Rama V when he was sick and all the ingredients were cut into small pieces. "It is good for your health," she says.
Fortunately our appetites are also healthy. We start lunch with the sea bass in yellow curry sauce that Markawat recommended earlier. The fish is delicate and the rich coconut milk, kaffir and chilli flavours come through without overwhelming the tender flesh.
The highlight of the meal, however, is the whole deep-fried goby fish served swimming in a sea of lemongrass, mango, galangal and tiny cubes of lime. Brought up on British cooking, it has taken me years to reconcile that deep-fried is not synonymous with incinerated to a crisp. Our river fish is moist, while the lime cubes provide a zest sufficient to invigorate even the most jaded of taste buds.
One of the most interesting dishes on the menu is gang lun juan – beef cooked in Thai herbs and shrimp paste. Even my gourmand Thai friends had yet to encounter it and Markawat hopes it will re-acquaint Thais with lost recipes. Once again it did not disappoint. The beef was lean and tender, with the sauce sweet yet sour. It was refreshing without being too overwhelming.
For Markawat, this is the essence of Thai cuisine. "It is the perfect combination between flavours," she says. "Like my mum always says, it is like life. Sometimes you have sweet, sometimes you have bitter, sometimes you have sour, because Thai food has everything." And, as we all know, mum knows best.
The Local, 32 Sukhumvit Soi 23, Tel: +66 (0)2 664 0664, www.thelocalthaicuisine.com.