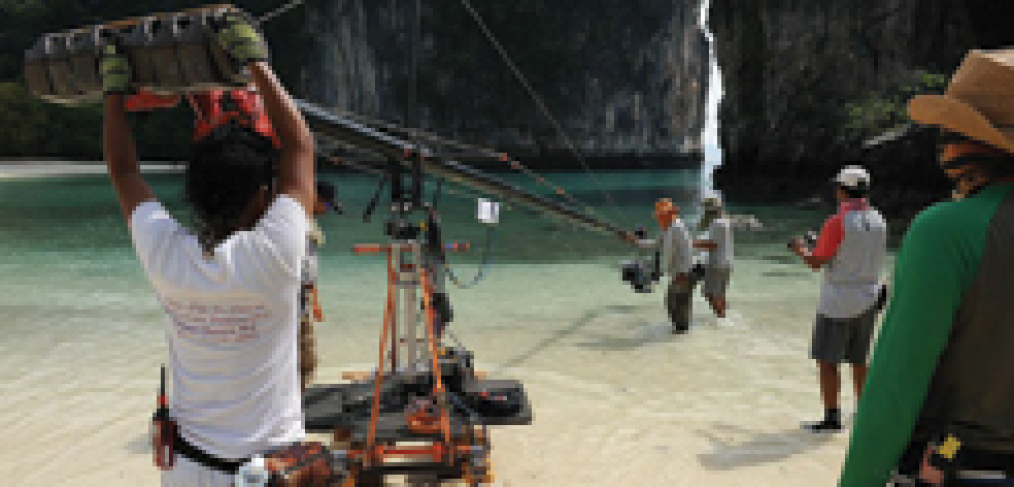 Silk Red Carpet
From The Hangover Part II to Lost in Thailand, foreign filmmakers are increasingly choosing to make their films in Thailand. Words by Mark Bibby Jackson.
As the camera sweeps over the beautiful azure waters of a pristine bay to reveal a luxury resort preparing for a special occasion, viewers are left in no doubt as to why the makers of The Hangover Part II chose Thailand as the setting for the follow up to the original top grossing movie. From the beaches of the south to the mountains of the north and the nightlife of Bangkok in between, Thailand provides the ideal backdrop for any filmmaker.
The Hangover Part II Director Todd Phillips is not alone in choosing to film in the Kingdom. In 2012, some 636 foreign productions (documentaries, advertisements, TV shows, music videos and films) were shot in Thailand, generating almost 1.8 billion baht in revenue — a 45 percent increase on the previous year. This upwards trend is set to continue with Worateera Suvarnsorn, Chief of the Film Business Promotion Section at the Thailand Film Office, predicting revenue to reach 2 billion baht this year.
"This not only provides an injection of significant funds into the Thai economy, but helps export our unique culture to the rest of the world," Thailand's Minister of Culture, Sukumol Kunplome, said at the launch of a report on Thailand's Film and Television Industries last year.
Worateera Suvarnsorn agrees, emphasising the import role that filmmaking can play in increasing tourism. "Foreign film productions give an imaginary view of Thailand to global viewers that induces them to travel to the film destination," she says.
It is not just Hollywood that it is turning to the Land of Smiles to make its movies. Indeed, the US, with 27 Thai-based productions in 2012, lags far behind Japan (149 productions) and India (125 productions) in choosing to shoot in Thailand.
Worateera Suvarnsorn believes that the next few years will see a trend towards Chinese filmmakers buoyed by the success of the 2012 comedy Lost In Thailand, written and directed by Xu Zheng. It was filmed in Thailand and has become the highest grossing Chinese film of all time, netting more than US$200 million dollars in China alone, eclipsing Avatar and Titanic for numbers of tickets sold.
The attractions of Thailand for filmmakers are clear and multifarious. Top of the list are the diversity of locations and its geography, features that have been attracting foreign filmmakers to the Kingdom since 1927 when Chang, a silent docudrama about a family of subsistence farmers living in the jungle, was shot by Merian C Cooper and Ernest B Schoedsack.
However, Worateera Suvarnsorn is keen to point out that the fast approval process for filming, low operational costs, an abundance of local labour and good infrastructure all play important roles. She adds that the government plans to introduce measures such as VAT refunds and tax credits to attract greater foreign film investment.
While in the past the Thai film industry might have relied heavily on the influx of foreign productions such as The Deer Hunter, Good Morning Vietnam and The Beach, in recent years the local film industry has seen strong growth fuelled by domestic demand.
According to National Federation of Thai Film Associations (NFTFA) President Visoot Poolvaraluk, the local film industry will nearly double in value this year compared with 2012, from 1.1 to 2 billion baht. Box-office hit Pee Mak Phra Kanong alone raked in more than 300 million baht in just two weeks.
The rising strength of Thai cinema is demonstrated by critically-acclaimed director Apichatpong Weerasethakul, who has won the prestigious Cannes Film Festival Palme d'Or. At this year's French festival, a Thai Night Cannes 2013 celebrating Thai-made films accompanied the world premiere of Only God Forgives, another Hollywood film shot entirely in Thailand.
Benefitting from an influx of major foreign productions that have further increased the level of professionalism within the industry, Thailand's post-production and 3D work have now developed an excellent international reputation, offering a one-stop moviemaking service at strongly competitive costs. This has led to substantial increases in terms of film output and job opportunities for visual effects artists, to cinematographers, directors and cinema workers within the Thai film industry.
"In the past few years, the film and television industry in Thailand has recorded strong growth, providing valuable jobs and creating terrific films and TV shows," Mike Ellis, President and Managing Director Asia Pacific of the Motion Picture Association, said at the launch of the aforementioned report on Thailand's Film and Television Industries.
Back on the set of The Hangover Part II, wedding plans might not be quite going to plan for groom-to-be Stu. But he still says of Bangkok, "This city suits me." It is a sentiment no doubt shared by the increasing number of filmmakers opting to shoot their next production in the City of Angels.
Hollywood Love Affair
Around the World in Eighty Days (1956), (2004) – both original and Jackie Chan remake were shot in Thailand.
The Man with the Golden Gun (1974) – 007 film shot around Bangkok and Phang Nga Bay. Scaramanga's hideout is Ko Kow-Phing-Khan.
The Deer Hunter (1978) – epic Vietnam War movie, but the Russian roulette bar was in Patpong in Bangkok, while the POW camp was in Sai Yok.
The Killing Fields (1984) – this haunting depiction of Khmer Rouge in Cambodia was shot in Hua Hin and Phuket.
Good Morning Vietnam (1987) – Bangkok stood in for pre-1875 Saigon.
Tomorrow Never Dies (1997) – Second Bond movie shot in Thailand, once again Thailand understudies Vietnam with Phang Nga Bay portrayed as Halong Bay.
The Beach (2000) – Ko Phi Phi Leh is the mythical beach that Di Caprio discovers.
American Gangster (2007) – parts of the story of an American heroin smuggler were filmed in Chiang Mai.
The Hangover Part II (2011) – it might be a poor follow-up but you can hardly blame Thailand for this.
The Impossible (2012) – harrowing story of a tourist family caught in the aftermath of the 2004 Indian Ocean tsunami.