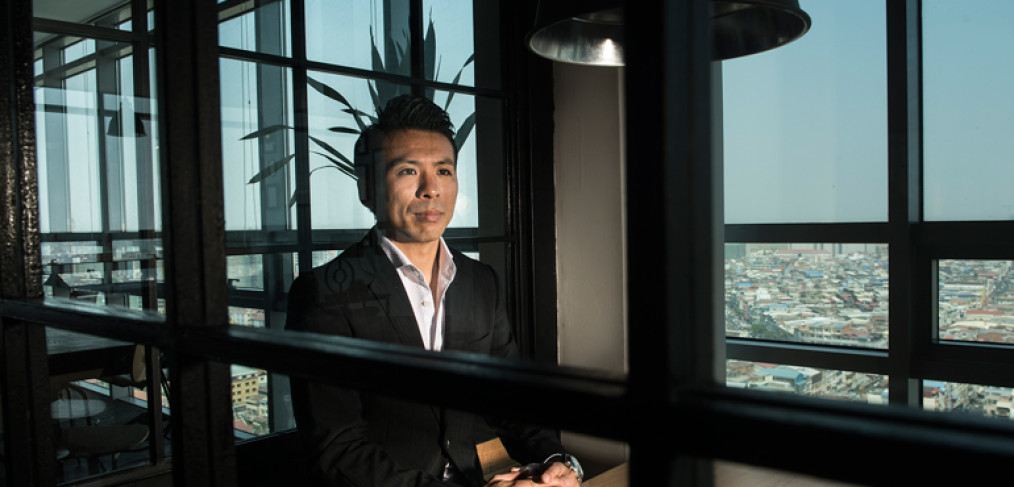 House of the Rising Yen
As more and more Japanese investment floods into ASEAN, Cambodia is becoming an increasingly promising investment for the smart investor. ASEAN Forum talks with one Japanese company that is turning Cambodian.
BY MARK BIBBY JACKSON
somehow it seems appropriate that the loftiest bar in town is part of the increasing Japanese influence within the Cambodian capital. Set on the 22nd floor of Phnom Penh Tower, D22 provides panoramic views of the ever-changing city skyline, from the Vattanac Tower "penguin" to Sokha Hotel's recently opened five-star resort on the Chroy Changvar peninsula.
"We wanted to do something different and unique; we wanted to create a place that people would feel like they were not in Cambodia," explains Takenori Ueda, Managing Director of TamaHome (Cambodia) Ltd., the owner of the D22 and the Tama Hotel.
"Cambodia is a developing country, and yet it has actually been developing gradually over the past five years. We want people to feel and also realise 'we've come this far' by overlooking the city from our floor, where we can see high buildings and lots of construction while being surrounded by modern furniture and designs. This is one of the reasons we did not use nor place any traditional Cambodian furniture or decorations," he adds.
Tama Hotel – Phnom Penh Tower is divided into three areas; the hotel (the H22), bar and dining areas (the D22) all on the 22nd floor. "We thought it would be unique to have them all in one floor and to have such a hotel inside of an office building," says Nanae Yamamoto, senior manager of TamaHome's operations department.
The space was designed by Japanese architects, FHAMS. The concept is of 'Mr X' – a middle-aged world traveller who has opened up his stunning abode to friends.
The penthouse suite is stacked full of the objets d'art he has collected from his global wanderings. From model sailing boats to a stack of well-worn suitcases, bicycles, antique cameras, more than 150 books and an extensive art collection, the hotel, bar and restaurant have all been decorated to suit the character's taste.
"It's a really unusual idea that the designers came up with, and one that works so well," says Yamamoto. "The idea is that the house is bustling with friends who were invited to his party. As you walk in, you are welcomed by his concierge and the delicious smell from the kitchen. His extensive collection of liquors at the bar adds spice to the night, and at the back of the bar, there are rooms for his guests to rest in when the night comes to a close."
The unique and stylish design has not gone unnoticed. In October 2014, Tama Hotel was chosen as the best interior design at the INSIDE – World Festival of Interiors in Singapore. INSIDE is an international festival and awards programme that acknowledges the greatest interior design and architecture. Other nominations in the category included the Hilton, Sukhumvit Bangkok.
Like Mr X, Ueda, 35, himself is somewhat of a traveller. Before coming to Phnom Penh in February 2014, he had worked in an architect's office in Manila for almost three years and then returned to his native Japan to join the TamaHome Group.
He believes that the Philippines demonstrate the great potential that Cambodia holds for foreign investors.
"Here it is going to be like that," he says of the massive development that has taken place in Manila over few decades. "At the moment we are at the beginning of a new wave for Cambodian business."
TamaHome (Cambodia) is a subsidiary of TamaHome in Japan. Founded in 1998 in Fukuoka, the parent company is one of the largest housing corporations in Japan, selling between 8,000 and 10,000 custom-built homes each year. Now the company has expanded its portfolio to real estate, finance and interiors in addition to housing, as well as the mega solar business.
Six years ago, the company's president and CEO Yasuhiro Tamaki decided to expand into ASEAN, initially setting up the regional headquarters in Singapore with the idea of exploring neighbouring countries for investment opportunities.
Having investigated the possibility of setting up an office in Myanmar, Laos, Thailand, Vietnam, Bangladesh or Indonesia, they settled upon Cambodia.
"We've learned that Cambodia has a better environment to make investments and undertake our projects considering the conditions of land and the real estate registration system in Cambodia," explains Ueda. "It's a nice place to do business in Southeast Asia. Investment is easy. It's simple to establish a company, and they use the US dollar."
"Thailand and Jakarta have grown too much, and Myanmar is not ready yet," he adds, by way of explaining why Cambodia was chosen ahead of other regional alternatives.
One further factor is "safety". Ueda maintains that he feels much more safe living in sleepy Phnom Penh than he did in Manila. "There is a lot of opportunity here," he says.
TamaHome's first project was developing a 26-apartment block close to Northbridge International School on the outskirts of Phnom Penh in 2013. The location was chosen, for being equidistant between the city centre and the Phnom Penh Special Economic Zone, established in 2006. It is also only 10 minutes from Phnom Penh International Airport.
As with the subsequent D22 and Tama Hotel, the group chose a Japanese designer, Naoya Kawabe Architect & Associates, to undertake the project.
"Each apartment has a different design, layout and furniture," explains Ueda. "We've used structural calculation to this building to satisfy Japanese standards in the structural design. We know that Cambodia is less likely to face earthquakes, but we wanted to build a creditable apartment for those who are in Cambodia."
Although the greatest danger of an earth tremor in the Cambodian capital is from the stream of Lexuses passing along the roads, Ueda believes that Japanese companies have a lot of knowledge they can share with their Asian cousins, especially in terms of design and construction techniques. "We can share in the country's growth," he explains. "We hope to contribute to Cambodia's future development with our projects.
****
JAPANESE INFLUX
The Japanese creative flair and desire for good design extends across Phnom Penh. iRoHa Hotel is one example. It opened its doors in 2014 after owners Susumu Kuroda and Hanae Tsurusaki travelled to more than 40 countries to find the perfect place to create their dream. After stumbling across a former politician's grand colonial villa on leafy Street 73, they recruited the help of revered Japanese architect Ken Iijima to help bring their unique vision to life. The result is a stunning 27-room boutique hotel, with each room representing a different Asian element, such as the deep blue Mekong room or the warm orange sunset rooms.
Aeon Mall opened its doors in June 2014, becoming Cambodia's first super-size shopping mall. Japan's largest shopping mall developer brought with it 150 stores in the form of a series of fashion brands, as well as electronics, accessories and household items from both Japan and beyond. The 68,000 square-metre mega-mall also boasts a range of restaurants, a cinema, bowling alley and supermarket. Owners hope to build a further five malls in Phnom Penh as well as extend to Siem Reap in coming years.