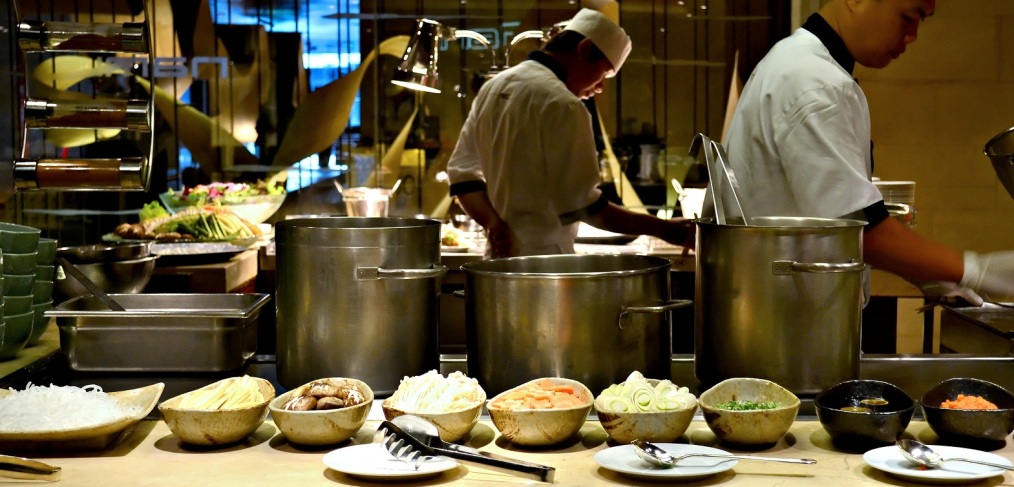 Tsu Nami Sunday Brunch
JW Marriott's Japanese Sunday Brunch is going down a storm in Bangkok. Words by Mark Bibby Jackson.
A golden rule of buffet dinners is to avoid filling yourself up on the stodge. Skip the bread rolls and head straight for the sashimi is my motto. But what do you do when there is no stodge? This is the dilemma I encountered at the JW Marriott's Tsu-Nami Japanese Sunday brunch.
Tsu and Nami are two separate restaurants in the basement of the JW Marriott that get together once a week to serve a spectacular Sunday brunch. While Tsu focuses on sushi, saki and sashimi, sister Nami devotes herself to the Tepanyaki grill. In between a DJ plays some cool vibes in the no man's land of sparkling wine and juices.
First, I decided to pay a visit to Tsu. Faced with a wider range of sashimi, maki rolls and shrimp tempura wraps than I have ever seen before, I struggled hard to resist the temptation of piling my food mountain high. The tuna served with a dash of wasabi was quite spectacular as was the paper thin beef that resembled a carpaccio in everything but the spice. This we had with a house specialty salad of fried white fish and crab that contrasted well with the predominantly spicy sashimi. We washed this down with a sparkling white – after all it was almost midday.
However good Tsu was – and she was very good – I'm afraid she paled into insignificance when compared with sister Nami. With a noodle station and separate griddles devoted to fish, pork, beef and foie gras you really are spoilt for choice here. The beef station was further sub-divided into striploin, tenderloin and ribeye with clinical Japanese efficiency.
The tenderloin was an Australian wagyu which had the same distinctive buttery flavour as its Japanese bedfellows. Seared to perfection on the griddle to preserve the juice of the meat while providing a crispy outer coating, this was the highlight of the meal. The fish on the other hand, a combination of salmon and butter fish flown fresh in three times a week, was slightly disappointing, being a bit too oily for my taste. By this time I had moved from the sparkling wine to an Australian shiraz that complimented the beef extremely well.
It was only at the desert stage that the meal deviated off the Japanese straight and narrow. Tiramisiu, molten chocolate puds, banana crepes and an array of Asian deserts as well as a selection of cheeses competed for our attention. Both tiramisu and the Italian dolcelatte proved irresistible and I dutifully succumbed.
Despite the Italian denouement, Sunday buffet lived up to its reputation as one of the finest in Bangkok. From now on I might just find my Sunday brunches turning Japanese.
Tsu-Nami Japanese Sunday Brunch from 11.30am to 3pm.
Tsu – Nami
JW Marriott Bangkok
4 Sukhumvit Rd.,
Tel: +66 (0) 2 656 7709