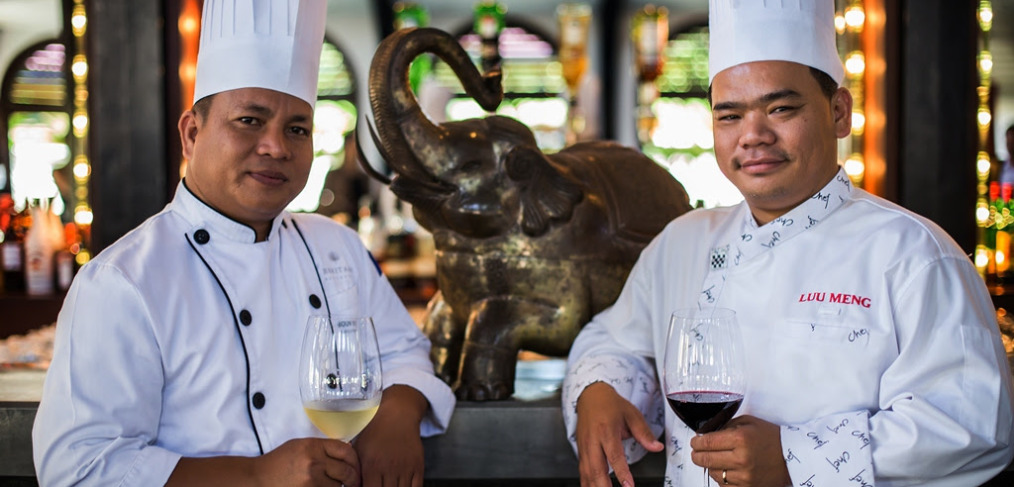 Luu Meng to Host Charity Bash for Sala Bai
Siem Reap's Heritage Suites has teamed up with Cambodian celebrity chef Luu Meng to lead a charity gala dinner in aid of Sala Bai students. The hotel with a heat is launching its second annual charity gala dinner and auction in aid of Sai Bai Hotel and Restaurant School's extension project on Friday, Mar. 21 at Heritage Suite's elegant poolside.
The culinary event will see one of the country's top chefs, Luu Meng, land in Siem Reap from Phnom Penh to cook up a storm in the kitchen with the hotel's Executive Chef, Boun Vibol.
Claude Colombié, Director of Sala Bai, says "Our aim is to reach 150 students while increasing sustainability by 2017 to 50 percent of operating expenses through revenues earned locally by the school, its selected partners and alumni association. But we cannot do it in the current school as the building is too small.
"I am very happy to participate as the chef to this charity dinner. The Sala Bai training enables young Cambodians to get out of extreme poverty and become actors of the economic development of our country. They are the future of Cambodia."
As Cambodia's celebrated chef, Luu Meng is passionate about building and creating career paths for Cambodia's youth. His love affair with subtle tastes, variety and his country's herbs and spices is now legendary. And his constant experimentation with flavors and textures, combined with his desire to dig into his country's culinary secrets will inspire the Sala Baï youths.
Recipes on the night will highlight the unique creations of both traditional and modern Khmer cuisine, with a Western touch, made of and with Cambodian White Gold rice, winner of the World's Best Rice Awards in 2012 and 2013.
As well as five-courses of top quality food accompanied by fine wine, the evening includes entertainment and an auction.
The event takes place at Heritage Suites, near Wat Polangka, on Friday, Mar. 21, from 7pm. Tickets are $75 per person and can be booked by emailing [email protected].