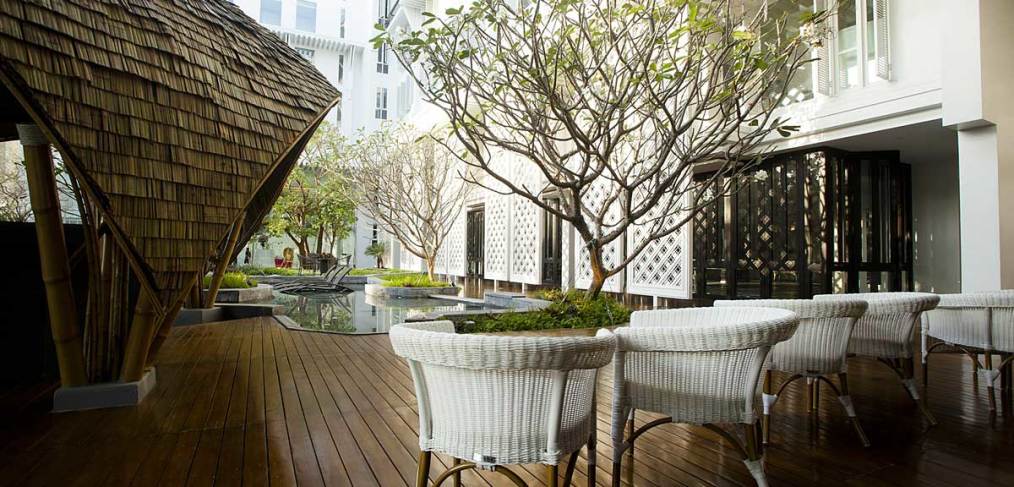 Hua Chang Heritage: All That Glitters
Opened in January 2013, the Hua Chang Heritage Hotel might have a touch of the kitsch about it, but beneath all the glitter, there lurks real substance. Words by Mark Bibby Jackson.
If Graham Norton were coming to Bangkok then the Hua Chang Heritage Hotel is the place he'd stay. Not that I am on a first name basis with the chat show host you understand, just that the Bangkok hotel is right down the boulevard for the Irish King of Camp.
From the mock Louis XIV golden throne that greets you in the lobby to the cobalt blue, purple and magenta room interiors and extra-thick grey shag pile carpets with silver highlights, the Hua Chang Heritage is leaving nothing to chance. This is a hotel that is piling on the Glam and in buckets, which is not necessarily a bad thing. Once I adjusted my Dame Edna specs, I found myself spending the night in a very luxurious room – perhaps one even fit for the Sun King himself.
The piped salsa music might not be to everyone's tastes, but listening to it in my spacious bath was a luxuriant experience. Almost as decadent as scrambling my way through all the pillows and bolsters on the bed without a safety harness. Ultimately hotels succeed or fail on the quality of the bed and by this criteria the Hua Chang Heritage is faultless. Tailor-made with pocket coils inside, it provided me with one of the best night's sleep I have had.
Combining contemporary with kitsch, the rooms are large and well-designed with a seamless transition from the living area to the bathroom and separated toilet and shower cubicles. A heated toilet seat, possibly with a Japanese market in mind, and luxury local Thann brand toiletries
demonstrate a refined attention to detail. The touch-screen panel beside the bed regulating all the room's electrics might at first seem daunting to the technophobe but actually proved simple to use.
The design is not exclusively camp, as there are some traditional Thai touches such as the lotus shaped wooden windows and doors to Miss Siam restaurant and Thai music rather than "ding-dong" which hails the arrival of housekeeping at your door.
Another Thai aspect of the hotel is the poolside bar designed in the shape of an elephant's howdah. Perhaps this is where Norton would have a refreshing cocktail before hitting Bangkok's nearby nightlife.
Hua Chang Heritage Hotel, 400 Phayathai Rd, Bangkok
Tel: +66 (0) 2 217 0777