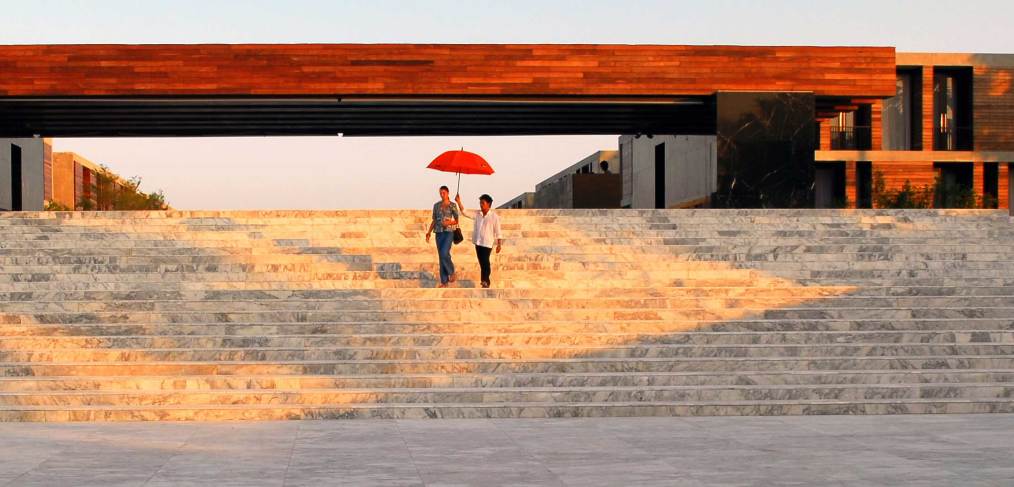 Contemporary Thai Icon
The Hotel de la Paix Cha Am Beach, Hua Hin is a minimalist modern design classic with more than a touch of the chic about it. Words by Mark Bibby Jackson.
Entering the Hotel de la Paix Cha Am is like walking onto a futuristic film set. I almost expect Tom Cruise to come riding past me on a motorbike heading for Oblivion. Spartan, brutal and austere, Thai architect and designer Duangrit Bunnag has produced what the owners understandably claim to be "a contemporary Thai icon for the ages".
The hotel's design consists of a series of straight lines inviting you step-by-step towards its secluded beach and horizon beyond. The foyer leads on to a pond which then yields to the Clouds Loft bar where customers wait patiently for the sun to set like modern day lotus eaters, seemingly oblivious to the eastward-facing direction of the hotel.
On his website Bunnag claims that all Thais are born creative, but that the "starting point for creativity is purpose."
"You may climb the mountain through many paths and new paths can always be found. But you need to see clearly which mountain to climb and how tall or far it is," says the enigmatic architect, presumably not in reference to the somewhat daunting entrance to the hotel which reminds me of clambering over Greek temples in my youth. Only this time the only laurel I receive for my labour is a welcoming drink and ice-cold flannel.
The purpose behind the design is to create a sense of seclusion, ideal for the isolated resort some 30 kilometres north of royal resort town of Hua Hin. This is not place to rave in the New Moon. The austere materials – hard marbles floors and lava rocks walls confined behind steel meshing – create the natural barriers that provide the privacy Hotel de la Paix Cha Am's guests crave.
Beneath the minimalist façade are a series of secluded spaces such as the aquamarine pool, adjoining chic Red Bar and Spa Indochine
ensuring guests can find their own karma. "A secluded sanctuary," says the resort's general manager Nigel Tovey.
Not that the resort is simply an austerity package.
Each of the 79 rooms feature luxury modern living accessories – large flat screen TV, Apple TV with music and film collections, free WiFi and a bed that is sufficiently luxurious to ensure even the most hardened insomniac will get a good night's sleep. Yet it is within the bathroom that the real self-indulgence lies. The dramatic rain shower is almost Niagaran in its magnitude. Set in an open bathroom with deluxe bathtub, selected toiletries and ambient lighting, this is a space definitely made for two.
Its hip style and luxurious touches have seen the resort being voted one of the top 25 trendiest resorts in Thailand by TripAdvisor.
Secluded, hip and austere, perhaps the Hotel de la Paix is on to a winner here.
Hotel de la Paix Cha Am Beach
115 Moo 7, Tambol Bangkao
Amphur Cha-Am
Tel: +66 (0) 32 709 555