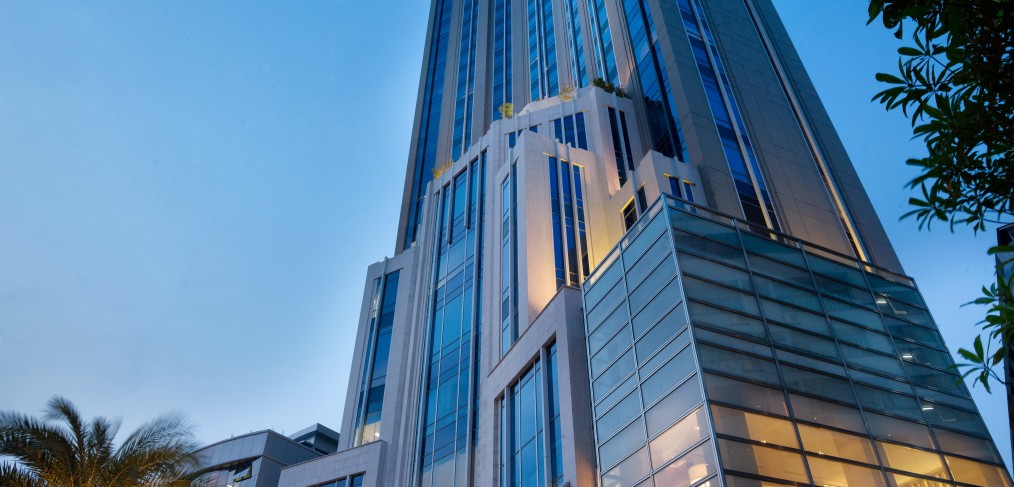 Behind the Design: Sofitel Bangkok Sukhumvit
Walking along the crowded pavements of Bangkok's Sukhumvit Road is an ordeal best avoided. Cheap T-shirts, knock-off DVDs, combat knives and vibrators vie for your attention, impervious of whether you are a single male or a mother with three young children. Rising out of all this like an art deco temple, the Sofitel Bangkok Sukhumvit provides a welcome refuge from the mire below.
The 32-storey building represents a far more salubrious marriage of east and west than occurs nightly on the streets outside. The hotel's interior is a modern take on the Thai rice harvest — icons and motifs resembling rice fields, stalks and kernels are scattered throughout — blended with French elegance in the form of artwork, statues and props.
Nowhere feels more French than the space at the top. Based on the Haussmann-style that was the creative force behind some of the most influential architecture of 19th-century Paris, L'Appart is precisely that — a Parisian apartment in the heart of Bangkok.
Designed by PIA Interior Company Limited, one of Thailand's most respected interior design companies, L'Appart represents a refined atmosphere with beautiful bespoke furniture including a renowned Le Cornue stove.
The space is open to the public and divided into different areas: a formal dining room, an open kitchen and living room set up as the main restaurant, a library for contemplation and conversation, and a bar-lounge area with a DJ station to make the party tick.
Behind the design lies a fictional story that roots the concept. A nephew lives in his wealthy uncle's apartment — a dream Parisian home lovingly recreated in Bangkok — while he is off on his travels around the globe. As the uncle's wanderlust continues, the nephew turns the apartment into his personal party venue and begins to entertain his friends.
Despite the rather contrived scenario, L'Appart is a resounding success. Helped by the award-winning restaurant, the venue already has developed a reputation as a party venue and one of Bangkok's finest rooftop bars — the view over Sukhumvit is quite stunning.
So, whether you wish to join the rebellious nephew's nightly party-going, or prefer a cocktail as the sun descends on Sukhumvit, L'Appart most certainly is a cut above the rest.
Mark Bibby Jackson