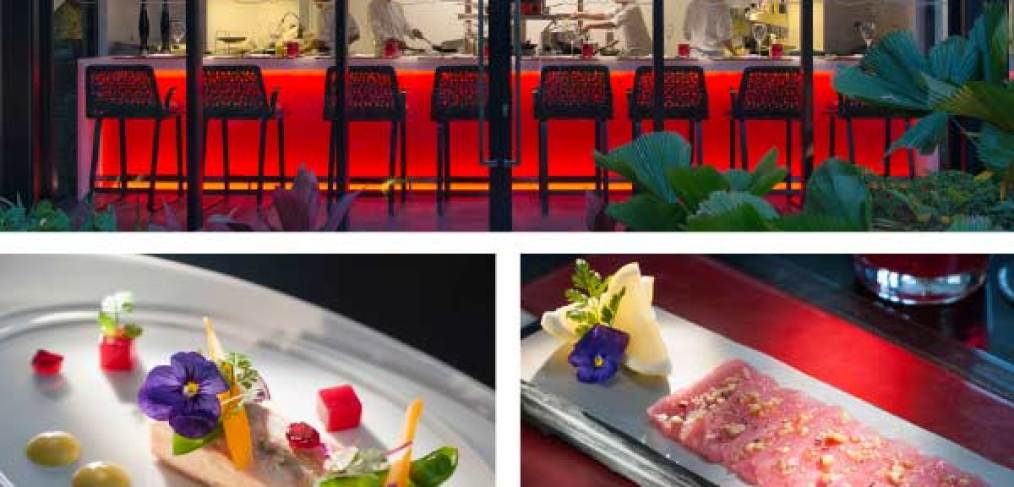 Say Ciao to Pizza
The Mandarin Oriental in Bangkok recently opened Ciao restaurant, demonstrating a contemporary Italian flair that goes much far beyond the pizza. Words by Mark Bibby Jackson.
"We wanted to create something different," explains executive chef Luca Casini as he joins us towards the end of our dinner. "An Italian restaurant with no pizza."
Hailing from near Florence, Casini is far removed from the southern heartland of the pizza around Naples. So he was not disappointed when informed there would be no pizza at the Mandarin Oriental's riverfront Ciao restaurant – something that is commonplace in India, Singapore and Hong Kong, but not yet in Thailand, claims the chef. "Maybe we will set a trend," he adds.
Judging by our tasting Casini has successfully created a contemporary Italian cuisine overlooking the Chao Phraya river. Although the view is sufficient in itself to leave diners happy, Ciao has much more to offer than a pretty face.
The crisp vespa martini that greeted us was fit for 007 himself, while the beef tartar appetiser did much more than invigorate our taste buds. Delicate in the mouth yet still full of flavour, it rivalled the belly of tuna – which burst into life with a zest of lemon – for our palates' attention.
The plate of prosciutto crudo, packed with Parma ham, mortadella and salami almost spilled over the plate, not that this prevented my dinner guest from wolfing it down in a blink of an eye. The only slight disappointment on the evening was the crab salad with mimosa, which was slightly too heavy on the leaf for my liking.
Unlike the prosciutto that is imported from Italy, the pigeon ordered as a main came from France. The rich flavour, something akin to liver, left my companion speechless – it was undeniably his highlight of the night – which allowed me to focus on my sea bass. The crispness of the skin contrasted perfectly with the delicate flesh trapped inside. Sitting on a bed of fresh vegetables from the Royal Projects, this was for removed from the overwhelming tomato sauce you often encounter south of Rome. It epitomised the contemporary cuisine that Casini is striving for.
All this was washed down with a red from Umbria, selected by our sommelier. Full of red berries, the subtlety of the wine complimented rather than challenged the food. And with an apparent absence of tannins, we were left with no nasty aftertaste at the back of our throat.
It was at this point that Casini joined our table forcing upon us a trio of panna cotta, although I am not a fan of the traditional Italian dessert. The mixture of strawberry, apricot and rosemary, and caramel was enough to assuage even the most savoury of taste buds. Perhaps they are even good enough to persuade Bangkok's diners there is much more to Italian cuisine than the contents of a wood-fired oven.
Ciao Italian Restaurant, Mandarin Oriental, Bangkok
48 Oriental Avenue
Tel: +66 (0) 2 659 9000
www.mandarinoriental.com/bangkok