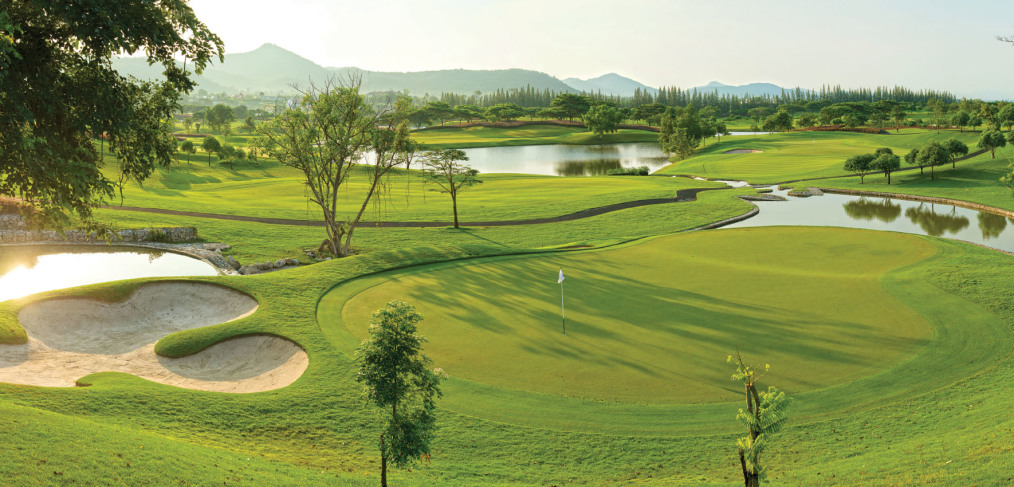 A Right Royal Treat
Horizon Thailand visits Hua Hin, a city with a growing reputation forwellness and tranquillity. Words by Mark Bibby Jackson.
Given the peacefulness of the coastal resort, it is befitting that the man who knows Hua Hin better than almost anyone else is softly spoken. So softly, in fact, that my voice recorder can barely detect him.
Suvit Reanroongruang is the city's former deputy mayor and now acts as a senior advisor for the mayoral office as well as moonlighting as President of the Hua Hin Golf Association. He has seen many changes in the 40 years since he moved here from Bangkok, but one thing has remained constant. "The beach," he says. "We have a clean beach."
Wandering along the golden sands the following morning, with only two bronzed northern European joggers to intrude upon my solitude, it is clear why Hua Hin became Thailand's first beach resort.
King Rama VI built his summer residence here in 1929. Known as Klaikangwon Palace, which means "far from worries" in Thai, it is not just royalty that have come to the seaside resort two-and-a-half-hours from the capital to get away from things. "People come here to stay; they have good health, the same as the King," says Reanroongruang.
It is this reputation for healthy living, in addition to the lowest rainfall in the country, that has seen Hua Hin develop from a sleepy fishing village to a wellness destination in the last few decades.
The transformation can be traced back to the opening of the Chiva-Som health resort some 15 years ago, says Sammy Carolus, general manager of the nearby Hyatt Regency Hua Hin. The complex introduced Hua Hin to a wider audience by winning the World's Best Destination Spa by Travel+Leisure Reader's Travel Awards in 2009. However, Carolus feels that the city's reputation as a wellness destination stretches far beyond Chiva-Som's secure gates. Many of Chiva-Som's guests also visit the Hyatt's own residential spa, the Barai, says Carolus.
The Barai has received its own fair share of plaudits, winning the Outstanding Performance for a Resort Spa category at the ninth Thailand Tourism Awards 2013. Run as a separate resort to the main hotel, with eight exclusive residential spa suites and your very own butler, the Barai represents "an architectural journey that embodies wellness," according to Carolus.
Walking through the narrow passage created by the maroon walls on your way towards the reception is like being transported to Marrakesh, while the bold cobalt blue walls just outside the treatment rooms have more than a touch of Jodhpur about them.
"We believe that the wellness transformation … is not just from the massage but from the body, mind and spirit," he adds.
The Barai takes its name after the Cambodian word for reservoir and there are strong water elements throughout, including the reflection pool where guests can relax after treatments and the square pool by the spa reception area.
Carolus views the Barai as more of a retreat than a spa. Indeed the Barai will be launching full-scale retreats from January 1, where guests can detox, participate in private tai chi and yoga sessions or even visit local temples. "There is a growing demand from guests who want to get beyond the massage they can find anywhere in the world," he says.
While Hua Hin might not have the 24-hour nightlife of Pataya, Phuket or Koh Samui, it does have serenity and a lack of crime that makes it especially attractive to families. Indeed, the city's resorts tend to fill up during Bangkok's school holiday times. It also draws a surprising number of Scandinavian expats.
According to Reanroongruang, there are 30,000 Swedes registered as living in Hua Hin – most having bought a condominium or house to escape the harsh Scandinavian winters. One such is Harold Elisson, the general manager of the Black Mountain Golf Resort. For him, part of Hua Hin's attraction is its authenticity.
"It's still very genuine Thailand in a good way … it's very friendly and not too exploited," he says. "Everyone who comes here, they want to come back."
And it is not just the sands that are attracting the Swedes. Black Mountain has been voted as the Best Golf Course in Thailand for the past two years by Asian Golf Monthly magazine. With neighbouring Banyan Golf Club also rated as one of the world's top 1,000 golf courses by Rolex, Hua Hin is developing a reputation as a golf destination. The city has been recognised by the International Association of Golf Tour Operators (IAGTO) as the Golf Destination of the Year – Asia & Australasia 2014 at its Golf Travel Awards.
With on-site condominiums, an award-wining water park, tennis courts, a volleyball pitch, a wake-board park, spa and plans for an international school afoot, Ellison sees Black Water as more than a golf course with fresh air and breath-taking views. "We have lifestyle and wellness activities for all ages," he says, adding that developing a sense of an international community has always been part of the long-term vision for the site.
Hua Hin is slowly but surely developing a reputation as the resort of choice in Thailand, and not just in the Swedish community. "If you want to have fun, this is not the destination for you," says Carolus. "But if you want to have peacefulness and to relax, play golf and have a spa, yes Hua Hin is still the destination." But one thing for sure, you won't hear Suvit Reanroongruang shouting about it.