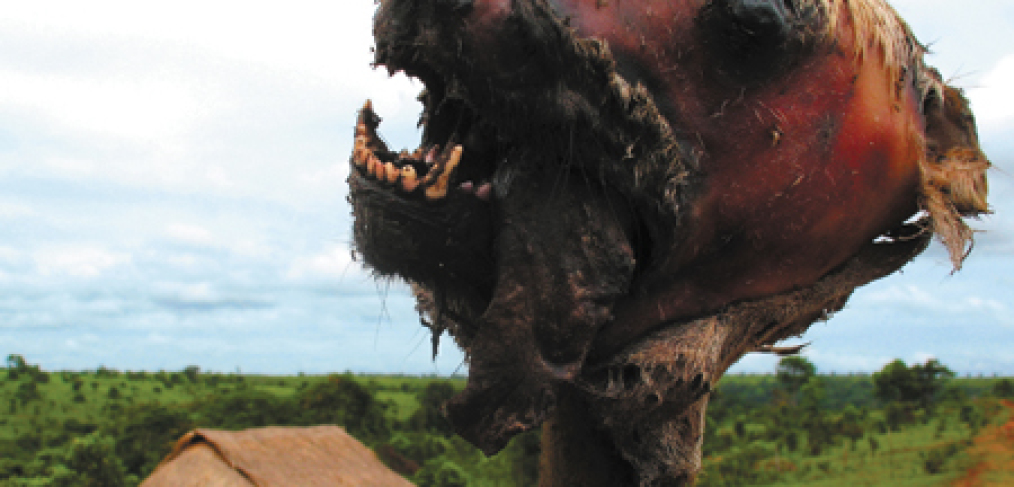 Bunong Family Attitudes
"My grandparents don't understand me." "The kids of today have no respect for their elders." Mark Bibby Jackson discovers that attitudes many might have felt they left behind in the West are alive and kicking in Cambodia's remote northeastern province of Mondulkiri. Photo by Conor Wall.
The relationship between younger and older generations can be tense all over the world. Where traditional cultures are fast becoming eroded by development, this tension can become accentuated. In small rural communities, education can become the battleground.
Bun Ly, 22, is an ethnic Bunong, a minority group in Mondulkiri province. Traditionally forest dwellers and elephant tamers, the Bunong are Cambodia's second largest minority group after the Chams. It's estimated that around 30,000 of the province's 43,000 population is Bunong.
In 2003, Bun Ly left his home village of Busra to continue his studies in the provincial capital of Sen Monorom. He was lucky that his parents placed a value on his education.
"If you try to persuade them [Bunong parents] to send their children to school, they just fight back," he says. "It's not important to them. The school is the jungle. You go hunting, climb the trees, collect the honey. That is the school for them, not writing."
Now Bun Ly works as a tour guide for the Bunong Centre in Sen Monorom. Opened three years ago, with support from NGO Village Focus Cambodia, the centre works with around 30 families in four Bunong villages: Dak Dam, Busra, Kav Kar and Pu Tru, providing villagers with an income from tourism.
"The Bunong people have no jobs, no work to do, so we set up this shop to sell to tourists," he says. "It provides a job for them as weavers. They can make a scarf. We provide a market for them."
The goods are sold through the centre's two shops in Sen Monorom. Last year the organisation grossed US$5,000.
With these proceeds the centre helps to fund a boarding school on the outskirts of Sen Monorom where over a hundred Bunong students live while attending the local state school. There they study the full Khmer curriculum.
"They come from different villages," says Bun Ly. "They have no friends, no relatives, and no money to stay in town, so we just set up a boarding school."
Noeun Kan, 20, works with Bun Ly at the Bunong Centre. He too is a tour guide, but only at the weekends as he still studies at the state school, staying at the Bunong boarding school.

As is the case with many Bunong families, Noeun Kan's parents opposed his education at first.

"When I was young my parents didn't let me go to school," he says. "I was 10 when I started school because I knew it was important. I followed my friends. Then my parents let me."
When he first entered secondary school, Noeun Kan walked 47 kilometres from his home village of Memong to the provincial capital of Sen Monorom. "I came with my friend," he says. "It took us 11 hours."
He shares a small dormitory with 12 other students, sleeping on a narrow shelf with two friends. It can be no more than two metres long and one metre wide. However, this narrow berth has given him a future that is unavailable to many Bunong. As a tour guide, he can earn up to US$20 per day taking tourists to villages.
Heavily reliant upon tourism for its income, the centre runs trips to the surrounding villages.

"Some people are interested in the Bunong people," says Bun Ly. "We take them to the villages and spend a couple of hours there, ask the Bunong people about how they live, and have lunch with them."
Ironically, while tourism helps to fund initiatives like the Bunong Community Centre aimed at preserving local traditions, the advent of tourism is threatening the Bunong's traditional way of life.

"They [the older generation] complain about the tourism," says Bun Ly. "When Cambodian tourists come to the [Busra] waterfall, they throw trash.

The waterfall is very spiritual. Now it's not anymore because a lot more people go there. So people say the gods will not live here anymore."
Although Bun Ly acknowledges the changes are difficult for the older generation, he welcomes them himself.

"My grandma and grandpa are afraid they might lose their culture, but it is good for me," he says. "For the younger generation they like something new, they like what is socially going on. The older generation, they just want traditional things, they just want to keep their culture. For me it's good, I like to live like Khmer people."
This clash of perspective has lead to a generation gap that is familiar to young and old all around the globe.
"They always complain," says Bun Ly about his grandparents. "When I come to see them sometimes they say 'you do not look like Bunong people, look at your clothes, look at your hair'. They are unhappy."
Through embracing his newly adopted culture, Bun Ly has becoming disillusioned with his roots.
"I do not respect my culture," he says. "When you get ill, even if you have malaria, they [the Bunong] will not send you to the hospital. They use traditional medicine and go to the oldest person in the village. And he says you have to kill a buffalo to pray to the gods. It'sUS$500 to US$700 to kill a buffalo. That's a lot of money. And it does no good."
Bun Ly recounts one story of when his father was unwell. Despite recovering from his illness after taking medicine Bun Ly had given him, his father refused to believe it was the medicine that had made him well. Instead, he put his faith in a dream where the gods told him to kill two buffalos: one black and one white.
"My father spent over US$1,000 for the two buffalos so I asked him why he needed to kill them," says Bun Ly. "'Stop it,' he said. 'You don't know anything.' And he made a big ceremony and prayed to the gods."